One of the reasons to plan your stay in the Chianti countryside at Il Vichiaccio is the possibility to choose between many activities and unforgettable experiences that you can do in the area or not far away: from riding bycicles on the white roads of Chianti, famous for the Eroica race, to drive a Cinquecento or a Vespa for a tour, to ride an horse .
http://www.ontheroadinchianti.com/
http://www.noleggiochianti500.it/
http://www.cavalieridelchianti.it/
http://www.toscanaequitazione.it/
You can even take a tour on the rolling, Tuscan hills with an old-fashion horse-drawn wagon.
http://www.cocchieridichianti.com/
Or arrange a hot air balloon trip:
http://www.tuscanyballooning.com/
Art and Painting Courses
You can take painting lessons during your holidays immerse in the stunning Chianti countryside.When possible the courses are held outside in the open air either in the countryside surrounding the studio
http://www.studiodartemarina.it/
If you like Contemporary Art and you are looking for a different day to spend with your childrens, visit the Chianti Sculpture Park, a permanent exhibition of sculptures and installations, that is part of a wooded area.
Inside the Park an Amphitheatre / sculpture has been created to offer visitors a rich programme of concerts and cultural events.
http://www.chiantisculpturepark.it
Go for Truffles
If the season is right, another activity you can do is go for a truffle hunting with the dog in the beautiful woods of Tuscany, near San Miniato (Pisa)
www.truffleintuscany.it/
Cooking Classes
There are lot of places where to do cooking classes in the Chianti area and in Florence too.
Here some addresses in Chianti:
www.chiantifamilyfood.it in Greve in Chianti
www.toscanamia.net in Gaiole in Chianti.
In Florence you can check for :
If you are interested Meri, our friend, is doing cooking classes in her beautiful home in Florence: you can contact her at mac.rose2966@gmail.com .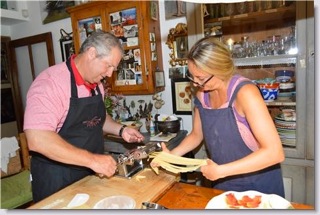 Thermae & Natural Hot Springs in Tuscany
Tuscany has many natural hot springs across its territory. While many hot springs are now part of enclosed spa centers, you have many choices as to places where to relax any time of the year:: Saturnia and Bagni San Filippo located in southern Tuscany, Maremma region. More near the Chianti area check for:
www.grottagiustispa.com Monsummano Terme
www.termeaq.it Rapolano Terme
Or if you want you can try a new experience at the Asmana Wellness World in Florence, where with the purchase of the entrance ticket, you can choose between relaxing in the pool or take the Aufguss inside the Herbal Sauna and Wine Sauna, or the Salt Ceremony inside the Purifying Bath
www.asmana.it/ Florence
Looking at the Star
If you are interesting in astronomy and want to enjoy the view of the stars from an observatory surrounded by a beautiful natural park in the Chianti countryside, book for a visit at Osservatorio Polifunzionale del Chianti near San Donato in Poggio,where you can also visit the natural park .
From Il Vichiaccio house ,with a short walking path you can also visit the observatory of Torre di Luciana. You can check for their activities on the website:
www.torreluciana.it
Walking around Chianti
If you preferred activity is to travel on foot enjoying the journey, which allows you to discover cities, countries and places, without haste, enjoying trails in the nature, exploring the local art and culture, you can choose between a self guided walk around the areas or you can join a guided walk if you prefer .
The local Tourist Office have leaflets on self-guided walks .
Le Vie del Chianti organized relax walk following ancient trails in the Chianti Wine region.
http://leviedelchianti.blogspot.it/
Wine Tastings
If you love wine, Il Vichiaccio could be a good base to visit the Chianti wine region which included the towns of Radda in Chianti, Castellina in Chianti and Gaiole in Chianti (which are in the province of Siena) as well as San Casciano Val di Pesa, Tavarnelle Val di Pesa, Greve in Chianti, and part of the town of Barberino Val d'Elsa (which are all in the province of Florence).
These towns all represent the area of wine production called "Chianti Classico" (which is recognizable by the Gallo Nero, or Black Rooster logo).
Our suggestion is to go directly to the wineries where you can taste the wine produced at that vineyard and if you like it you can buy a few bottles. Often the wine tasting is combined with local specialities like cheese, salame and ham with tuscan bread or Cantuccini to taste with Vin Santo, a typically dessert wine.
Tasting wines on the spot and maybe visit the winery and vineyards is an nice opportunity to discover beautiful Tuscan Villas with typical italian garden and if you don't drink, the visit to the estate might still be interesting.
Look at the signpost "Degustazione" – wine tasting – along the various wine routes in Chianti to find wineries that offer wine tasting tour.
So if you have a car and wine tasting on your itinerary while spending time at Il Vichiaccio, here some suggestions where to go.
Antinori Chianti Classico – www.antinorichianticlassico.it
Principe Corsini Villa Le Corti – www.principecorsini.com
Tenuta di Nozzole – www.tenuteambrogioegiovannifolonari.com/tenuta-nozzole.htm
Castello di Verrazzano – www.verrazzano.com
Fattoria di Calcinaia – www.villacalcinaia.it
Villa Vignamaggio – www.vignamaggio.com
Castello di Volpaia – www.volpaia.com
At Il Vichiaccio we have a solution for the one who want to do wine tasting and are traveling without a car too.
With a short walk trough the magnificent vineyards you will be able to reach Castello di Gabbiano or at the bottom of the main road Castelli del Grevepesa
Castello di Gabbiano – www.castellogabbiano.it
Castelli del Grevepesa – www.castellidelgrevepesa.it
You can do a wine tasting at all wine bars called "Enoteca" in Italian, where you can combined a full-course meal of typical tuscan food specialties that will give you the chance to appreciate each wine at its very best.
Santa Margherita tenimenti Toscani – www.santamargherita.com
Ristorante Enoteca Fuoripiazza – www.enotecaristorantefuoripiazza.it
Enoteca Falorni – www.enotecafalorni.it
Enoteca di Greve – www.enotecadigreve.it