Il Vichiaccio, the Chianti Country House ideal for visiting Florence, Tuscany and his arts cities.
If you are looking for an holiday house in the Chianti area, close to Florence, il Vichiaccio it is the ideal solution for your needs. Immersed in the vineyards of Chianti, in the meddle from Florence to Siena, Il Vichiaccio Country House is a very good starting point to the main Tuscan arts cities like Siena, Pisa, Lucca, the Tyrrenian coast and the villages of Chianti , were you can taste typical foods like bistecca alla fiorentina and drink a good glass of red wine. At Il Vichiaccio we offer hospitality to families, groups and couple. You will find indipendent bedrooms and appartaments, all equipped with heated jacuzzi and the exclusive garden.
What you will find at Il Vichiaccio Country House

A little help with your choice…

Aside from being the owners of the House we are, above all things, keen travellers.
We visited many countries by train, car, airplane and even motorbike.
Therefore, we are well aware of how important it is to find a cosy and hospitable accommodation which is up to our needs, our expectations and our taste.
Unfortunately, we also know very well how frustrating it is to see our desired and much awaited vacation becoming a disappointment or, even worse, an unpleasant experience altogether.
Because of this, it is of the greatest importance for us to make perfectly clear what we can offer and what we cannot offer, so as
to avoid disappointments or bad surprises for our guests when they arrive.
Firstly and most important: WE ARE NOT AN HOTEL!
We are a family that give accomodation in our house.

here you will find a young family of true nature lovers, keen to share with their guests all the good feelings of a holiday. We enjoy learning about our guests' customs, their culture and perhaps their political views as much as we love to tell them about our own, because we believe that getting to know different cultures is a great chance for personal growth.
You will find two adult persons who carry out their own professional activities on a daily basis. Therefore, we will not be home all the time but we are always happy to open our door to our guests and share a good glass of wine and some good conversation, and if they like, to give them some tips about what wine to buy or what place to visit.
There will not be an impeccable receptionist to greet you when you arrive; neither will you find service staff in their uniforms ready to serve you twenty-four hours a day with formality and subjection.
Our rooms have been restored with all the care and the love that one can only dedicate to his lifetime's project, respecting the culture and the tradition of Tuscany.
You will find that the outdoor areas are very well looked after, with many typical flowers, but not obsessively maintained as if they were botanical gardens.
You are not going to find rooms chilled by powerful air conditioners, or spotless, golf course like lawns.
You will not find catering staff to serve you breakfast in bed, or a chauffeur to drive you to the airport.
Instead, you will find two people willing to help you in any circumstance that may arise, whether you need to book a restaurant or have to repair your car.
Therefore, if you are looking for a resort where you can relax without interacting with anyone who is not part of the staff, pampered by impeccable waiters and surrounded by posh furniture and powerful air conditioners, perhaps Il Vichiaccio is not the right place for you.
Instead, if you think that travelling is above all a chance to learn…
If you appreciate a good glass of Tuscan wine with the right company, rather than a sushi meal in a franchising restaurant…

If you like an old and faded cabinet, perhaps with some hidden spider web but filled with the history of its own time, better than a modern and sophisticated kitchen made of stainless steel and marble…
If you really want to discover our beautiful land, so rich in history, art and culture…
If you appreciate our suggestions and at the same time you are willing to forgive us if something is not exactly spot on (we are quite new to this business, and always keen to learn from our experience)…
…then you came to the right place!
Vichiaccio Wellness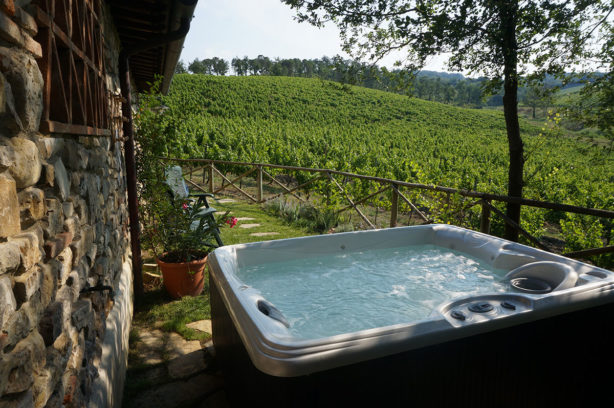 From our village leave dozens of paths that meander through the vineyards andin the surrounding woods and you can go on foot or by bike (we have two at your disposal).
If you love the outdoors, the slow pace of the campaign, the tastes and smells of nature and want to spend your holiday in search of physical and mental wellbeing, perhaps lulled by the warmth of our heated Jacuzzi, ready to welcome you after a walk in the countryside of Chianti, you will not be disappointed 😉