Public Transportation to Il Vichiaccio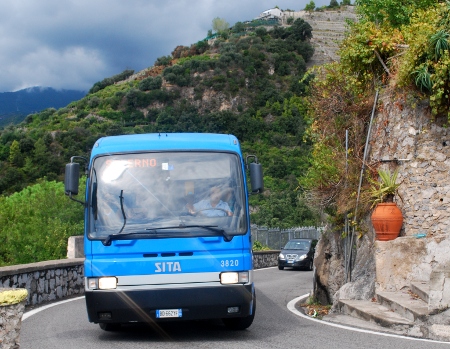 General informations
There are extensive networks of comfortable Pullman buses throughout Tuscany but they have their limitations.
Their purpose is to serve local people going to and from work and school, and their timetables reflect this, with few if any routes running after 7 or 8 at night, and long break during parts of the day.
The timetables differ markedly between working days (Monday to Saturday), working days excluding Saturday, and Sunday and holidays. Timetables may also change for long school holidays.
It is therefore a very good idea to print out and study the relevant timetables before you leave.
In addition, these routes are province-based with numerous buses fanning out from provincial capitals such as Florence and Siena, but with far fewer passing from one province to another.
So for example, Panzano is located in the Province of Florence on Highway 222, exactly half-way between Florence and Siena, and yet to travel by bus from Panzano to Siena one must take the bus to Florence and then the express bus from Florence to Siena via the motorway.
Nevertheless, these buses can be useful letting you to stay in a country house with a bus stop closeby, so that it is practical to spend a day in the nearest provincial capital while enjoying country life.
Some famous wine tasting locales (for example, Vicchiomaggio) are just a few yards from a SITA bus stop.
Tickets can be bought on board the bus but there is often a surcharge and the driver might not have the ticket denomination you require and/or change. Normal practice is to buy enough tickets to come and go at the bus station ticket office or at the bar nearest to your stop.
When you first enter the bus, be sure to validate your ticket by clicking it in the machine just behind the driver. Large bags, bicycles etc can be stowed in the boot (trunk) under the passenger compartment of the bus.
City buses also penetrate far into the countryside and they are served not only by AUTOLINEE TOSCANE buses but also by Florence city ATAF buses.
Departures from Florence (and arrivals in Florence) are made from PIAZZALE MONTELUNGO: click here for the map.
————————————————————————————————————————
Just 700 meters awayfrom IL VICHIACCIO there is a bus stop of  AUTOLINEE TOSCANE , the service to suburban public transport.
The departure times in the directionof Florence start from the bus stop of "Gabbiano" at 6.16 AM and end at 6.11 PM or 7.11PM (not in summer)
Departure times from Florence towards "Gabbiano" start at 6.45 PM and end at 8.15 PM
The ticket cost 2,80 euros for each run
INFO LINE 800373760
Timetable line from Florence to Gabbiano
From Monday to Friday
| | |
| --- | --- |
| Florence- Piazzale Montelungo (close train station) | Gabbiano |
| 6.40 (from 11 september to 9 june) | 7.24 |
| 7.00 (from 9 june to 10 september and during Christmas and easter holidays) | 7.39 |
| 8.30 | 9.18 |
| 9.30 | 10.09 |
| 11.00 (from 9 june to 29 july and from 01 september to 10 september and during Christmas and easter holidays ) | 11.44 |
| 12.05 | 12.44 |
| 13.05 (from 15 september to 10 june) | 13.44 |
| 13.35 (from 11 june to 14 september and during Christmas and easter holidays) | 14.14 |
| 13.35 (from 11 september to 08 june – not during Christmas and easter holidays) | 14.23 |
| 14.15 (from 11 september to 08 june) | 15.03 |
| 14.15 (from 11 june to 27 july and from 01 september to 14 september ) | 15.03 |
| 14.30 | 15.18 |
| 15.30 (from 11 june to 27 july and from 01 september to 14 september) | 16.09 |
| 17.10 | 17.49 |
| 17.50 | 18.29 |
| 19.30 | 20.18 |
| 20.15 | 21. |
Saturday
| | |
| --- | --- |
| Florence- Piazzale Montelungo (close train station) | Gabbiano |
| 7.00 | 7.44 |
| 12.05 (from 9 june to 10 september) | 12.44 |
| 12.15 (from 15 september to 10 june) | 12.54 |
| 13.05 (from 15 september to 10 june – not during Christmas and easter holidays) | 13.44 |
| 13.35 | 14.14 |
| 14.30 | 15.18 |
| 16.50 | 17.38 |
| 20.15 | 21.03 |
Sunday and holidays
| | |
| --- | --- |
| Florence- Piazzale Montelungo (close train station) | Gabbiano |
| 8.20 | 9.08 |
| 12.05 | 12.54 |
| 20.00 | 20.48 |
Timetable line from Gabbiano to Florence
From Monday to Friday
| | |
| --- | --- |
| Gabbiano | Florence |
| 6.16 | 6.55 |
| 7.06 | 7.45 |
| 7.31(from 11 september to 08 june – not during Christmas and easter holidays) | 8.10 |
| 7.36 (from 9 june to 10 september and during Christmas and easter holidays) | 8.15 |
| 8.21 | 9.00 |
| 9.36 | 10.20 |
| 10.42 | 11.30 |
| 12.11 (from 9 june to 29 july and from 01 september to 10 september and during Christmas and easter holidays ) | 12.55 |
| 13.26 | 14.05 |
| 15.41 (from 11 september to 08 june) | 16.20 |
| 15.41 (from 9 june to 29 july and from 01 september to 10 september) | 16.20 |
| 16.41 (from 9 june to 29 july and from 01 september to 10 september ) | 17.20 |
| 17.26 (from 9 june to 29 july and from 01 september to 10 september ) | 18.05 |
| 17.46 (only during august) | 18.25 |
Saturday
| | |
| --- | --- |
| Gabbiano | Florence |
| 6.16 | 6.55 |
| 7.06 (only during Christmas and easter holidays) | 7.45 |
| 7.16 (from 9 june to 29 july and from 01 september to 10 september ) | 7.50 |
| 7.31(from 11 september to 08 june – not during Christmas and easter holidays) | 8.10 |
| 8.21 | 9.00 |
| 9.41 | 10.20 |
| 10.42 | 11.30 |
| 13.26 | 14.05 |
| 15.12 (from 9 june to 10 september and during Christmas and easter holidays ) | 16.00 |
| 15.52 (from 11 september to 08 june – not during Christmas and easter holidays) | 16.40 |
| 17.26 (from 9 june to 10 september) | 18.05 |
Sunday and holidays
| | |
| --- | --- |
| Gabbiano | Florence |
| 7.27 | 8.15 |
| 14.27 | 15.15 |
| 19.07 | 19.55 |